Goodbye Christ?
Christianity, Masculinity, and the New Negro Renaissance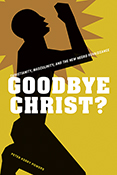 Despite the proliferation of criticism on the cultural work of the Harlem Renaissance over the course of the past two decades, surprisingly few critics have focused on the ways in which religious contexts shaped the works of New Negro writers and artists during that time. In Goodbye Christ? Christianity, Masculinity, and the New Negro Renaissance, Peter Kerry Powers fills this scholarly void, exploring how the intersection of race, religion, and gender during the Harlem Renaissance impacted the rhetoric and imagination of prominent African American writers of the early twentieth century.
In order to best understand the secular academic thought that arose during the Harlem Renaissance period, Powers emphasizes that readers must first understand the religious contexts from which it grew. By illustrating how religion informed the New Negro movement, and through his analysis of a range of texts, Powers delineates the ways in which New Negro writers of the early twentieth century sought to loosen the grip of Christianity on the racial imagination, thereby clearing a space for their own cultural work—and for the development of a secular African American intelligentsia generally.
In addition to his examination of well-known authors, including W. E. B. Du Bois, Langston Hughes, and Zora Neale Hurston, Powers also offers an illuminating perspective on lesser-known figures, including Reverdy Ransom and Frederick Cullen. In his exploration of the role of race and religion at the time, Powers employs an intersectional approach to religion and gender, and especially masculinity, in his discussion.
Goodbye Christ? answers the call for a body of work that considers religion as a relevant precursor to the secular intelligentsia that grew during the Harlem Renaissance in the early 1900s. By offering a complete look at the tensions that arose between churches and Harlem Renaissance writers and artists, readers can gain a better understanding of the work that Harlem Renaissance writers undertook during the early decades of the twentieth century.
Peter Kerry Powers is dean of the School of Humanities at Messiah College in Pennsylvania. He is the author of Recalling Religions: Resistance, Memory, and Cultural Revision in Ethnic Women's Literature.