Folklife along the Big South Fork of the Cumberland River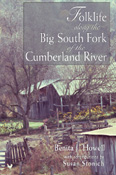 Author(s): Howell, Benita J.
Series:
Imprint: Univ Tennessee Press
Publication Date: 2003-09-15
Status: Active
Available in Paper: Price $27.95 | Buy Now
Folklife Along the Big South Fork of the Cumberland River records the history, lore, and lifeways of people who once occupied the land that became the Big South Fork national River and Recreation Area. The National park Service sponsored the research in 1979, just as former residents were being displaced from their homes. Through oral history interviews and historical records, ethnographic study, old-time-traditions, this book recounts what life was like in the Big South Fork during the first half of the twentieth-century, when the region's agrarian economy was transformed by the timber and coal industries. Howell has added a new introduction and postscript.
Visitors to the Big South Fork National River and Recreation Area will find this a useful introduction t the area's rich history and culture, while genealogists will discover a wealth of information about the region's historic settlements. Social scientists will recover valuable insights into the cultural dimensions of environmental impact assessment, along with a counter to conventional wisdom that tends to explain Appalachian culture in terms of either psychocultural or environmental determinism.
The Author: Benita J. Howell is professor of anthropology and chair of the America Studies Program at the University of Tennessee, Knoxville. She is the editor of Culture, Environment, and Conservation in the Appalachian South and author of book chapters on cultural heritage conservation and articles that have appeared in the Journal of East Tennessee History and the Journal of Appalachian Studies.