Fighting for Liberty and Right
The Civil War Diary of William Bluffton Miller, 1st Sergeant, Company K, 75th Indiana Volunteer Infantry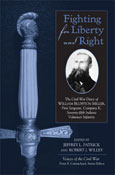 Author(s): Patrick, Jeffrey L., and Robert J. Willey, eds.
Series: Voices of the Civil War
Imprint: Univ Tennessee Press
Publication Date: 2005-08-30
Status: Active
Available in Hardcover - Cloth: Price $42.00 | Buy Now
In the summer of 1862, carpenter William Bluffton Miller left his wife and infant son and enlisted in Company K, 75th Indiana Volunteer Infantry Regiment. He began a detailed diary that for three years would record his daily activities as well as his thoughts and observations on his own experiences and the larger issues of the divisive war. Amidst the hard marching, gnawing hunger, loneliness, and personal loss, Miller and his fellow soldiers experienced the thrill of victory and the solace found in the camaraderie of the unit. Miller's varied experiences offer valuable insights into a number of aspects of the Civil War.
He began his service as a hospital steward in Gallatin, Tennessee, and he vividly depicts the heart-wrenching efforts of doctors, nurses, and fellow soldiers to save and comfort the ill and wounded. In his later service, Miller records the horrific sights from some of the war's bloodiest battlefields, including Chickamaugua, where he was wounded. Upon his recovery, Miller returned to duty as a general's orderly during the Atlanta campaign and later participated in Sherman's March to the Sea and campaign through the Carolinas.
Of equal interest are Miller's political observations and personal experiences. The diary shows how Miller's ideas about the war, particularly the issue of slavery, changed during the conflict. Democratic and Copperhead sympathy in the North actually strengthened his commitment to the Union effort, and Miller grew from a man who espoused the racial prejudices of his time into an antislavery advocate. Taken as a whole, Fighting for Liberty and Right is a glimpse of the daily trials of the common soldier in a divided country and a compelling portrait of a man who valued freedom for himself and for all his countrymen.