Exiled
Voices of the Southern Baptist Convention Holy War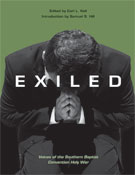 Author(s): Kell, Carl, ed.
Series:
Imprint: Univ Tennessee Press
Publication Date: 2007-06-01
Status: Active
Available in Paper: Price $29.95 | Buy Now
It has been one of the major news stories in religion and culture of the past twenty-five years. From 1979 to 1995, the Southern Baptist Convention (SBC) was rocked by assaults on its leadership by fundamentalists, who used questionable tactics to gain top positions and then used their power to purge Baptist seminary presidents and professors, church pastors, lay leaders, and women from positions of responsibility. America's largest Christian, non-Catholic denomination is firmly locked in a "holy war" to secure its churches and membership for a never-ending struggle against a liberal culture.
Exiled: Voices of the Southern Baptist Convention Holy War is a compilation of first-person narratives by conservative and moderate ministers and lay leaders who were stripped of their positions and essentially became pariahs in the churches to which they had devoted their lives.
While other books have described the takeover in historical, political, and theological terms, Exiled is different. Individual people tell their personal stories, revealing the struggle and heartache that resulted from being vilified, dispossessed, and exiled. Kell includes a variety of perspectives-from lay preachers and church members to prominent former SBC leaders such as James Dunn and Carolyn Crumpler.
The emotion captured on the pages–sadness, shock, disbelief, resignation,and anger–will make Exiled moving even to readers who know little about the Southern Baptist movement. Exiled will also be of particular interest to historians, sociologists, philosophers of religion, and rhetorical historians.