Estes Kefauver
A Biography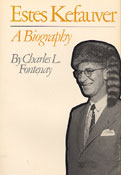 Author(s): Fontenay, Charles L.
Series:
Imprint: Univ Tennessee Press
Publication Date: 0000-00-00
Status: Active
Available in Paper: Price $35.00 | Buy Now
"A Yale graduate, cum laude, he was almost a cold-blooded intellectual. A warm family man, an inveterate handshaker, and arm-around-the-shoulder greeter, he was almost a liberal, almost a rabble-rouser, almost a clownish folk-figure – but not quite any of them, ever. He was almost President of the United States. In his mind, a mind that no one really knew in all of its complexities, that last 'almost' haunted him throughout many years of his life. Yet his failure twice to achieve that deliberate goal may have been of less consequence to the nation than his partial successes as a single individual working his way persistently past an intricate complex of political barriers in several fields of legislative endeavor." (From Chapter 1)
A native of Tennessee's eastern mountain country, Estes Kefauver practiced law in Chattanooga before winning a seat in the U.S. House of Representatives in 1939. In just under a decade he advanced to the Senate, gaining in the process a reputation as a giant-killer for his role in overthrowing the long-established Tennessee political boss, Edward Hull Crump. When the Senate committee investigation of organized crime in America was televised in 1950-1951, Kefauver, as committee chairman, achieved instant national acclaim. Although he twice failed to win the presidential nomination, he ran for Vice President on the Democratic ticket in 1956. After the Stevenson-Kefauver ticket was defeated, Kefauver retired to the Senate and devoted his remaining years to several major legislative interests: the Tennessee Valley Authority and public power, the Atlantic Union, and antitrust activity. The Kefauver-Harris Drug Control Act of 1962 brought him a final flare of nationwide fame.
Charles Fontenay is doubly qualified to write this biography. An experienced political reporter, he covered Kefauver's 1948 U.S. Senate campaign for the Nashville Tennessean. In addition, his personal friendship with the candidate from that year until Kefauver's death fifteen years after equipped him to probe the late senator's little known personal story. The author's interviews with Kefauver's family, friends, and Chattanooga colleagues enrich the first portion of the book, which details the politician's early years and family life. In order to describe the public and private aspects of Kefauver's political years more fully, Fontenay consulted numerous documentary sources and extensively interviewed Kefauver's former administrative assistants, staff members of his Antitrust and Monopoly Committee, his secretary, and a key campaign aid.
Kefauver was immensely popular with his constituents, warmly admired by his cohorts, and grudgingly respected by his opponents. Publicly easygoing, privately he was aloof and introspective. Fontenay's biography, the first to examine Estes Kefauver's life as a whole, illuminates him as an intriguing individual and deepens our comprehension of the American era he worked so diligently to change.