Encyclopedia of Appalachia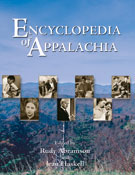 Author(s): Abramson, Rudy, and Jean Haskell, eds.
Series:
Imprint: Univ Tennessee Press
Publication Date: 2006-03-01
Status: Active
Available in Hardcover - Cloth: Price $79.95 | Buy Now
Appalachia holds a curious place in the American psyche. There is a pervasive perception of the region as a hinterland inhabited by a backward and developmentally stunted people. Economically, culturally, and technologically suspended in an era gone by, this Appalachia is regarded as one of America's enduring social and economic problems.
But there is another perception of Appalachia-home to the beautiful mountain system for which the region is named. It is a quaint retreat into the past, reflecting the integrity of a people with a pioneering spirit and lifestyle that pays homage to a simpler time. Until now, there has been no general reference work that captures the complexities of this enigmatic region. The only guide of its kind, the Encyclopedia of Appalachia is replete with information on every aspect of Appalachia's history, land, culture, and people. Containing more than 2,000 entries in 30 sections, the Encyclopedia is designed for quick reference and access to the information you need to know. Teachers, students, scholars, historians, and browsers with a passing interest in this beautiful and richly distinct region will quickly come to rely on the Encyclopedia of Appalachia as the authoritative resource on Appalachia's past and present.
The Encyclopedia details subjects traditionally associated with Appalachia-folklore, handcrafts, mountain music, foods, and coal mining-but goes far beyond regional stereotypes to treat such wide-ranging topics as the aerospace industry, Native American foodways, ethnic diversity in the coalfields, education reform, linguistic variation, and the contested notion of what it means to be Appalachian, both inside and outside the region.
Researched and developed by the Center for Appalachian Studies and Services at East Tennessee State University, this 1,840-page compendium includes all thirteen states that constitute the northern, central, and southern subregions of Appalachia-from New York to Mississippi. With thorough, detailed, yet accessible entries on everything from Adventists to zinc mining, the Encyclopedia of Appalachia is an indispensable, one-stop guide to all things Appalachian.