Emily Donelson of Tennessee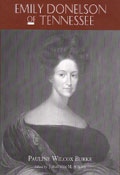 Author(s): Burke, Pauline Wilcox
Series:
Imprint: Univ Tennessee Press
Publication Date: 2001-11-04
Status: Active
Available in Hardcover - Cloth: Price $35.00 | Buy Now
The youngest daughter of one of the founding patriarchs of middle Tennessee and the niece of Andrew Jackson, Emily Tennessee Donelson seemed destined for the life of a southern plantation mistress. At seventeen, she married her first cousin Andrew J. Donelson, the namesake and ward of General Jackson. Four years later, however, her life changed dramatically as she and her husband traveled to Washington to serve her uncle in the White House. Andrew Donelson became the president's private secretary, and Emily assumed the role of White House hostess, filling a void left by the death of Jackson's beloved wife, Rachel, shortly after the election.
Emily soon found herself immersed in the central controversy of the first Jackson administration, the Eaton Affair. It began as a petticoat scandal involving the social acceptance of Margaret Eaton, the new wife of Secretary of State John Eaton, who was reportedly a woman of loose character. Jackson assumed the rumors to be the work of his political rivals and was shocked when Emily and her husband spurned Mrs. Eaton. The controversy consumed the first two years of the Jackson presidency, and the Donelsons left Washington rather than betray their moral stance. Eaton eventually resigned, and the Donelsons returned to the capital. Restored to Washington, Emily reveled in the local society and took charge of her four children, the largest number to be born in the White House.
Emily Donelson of Tennessee provides a fascinating chronicle of the social and political culture of Jacksonian America. Politicians and events in both Washington and Tennessee come alive in this book—in large part because Pauline Burke's unique position as a descendant of the Donelson family enabled her to draw on a rich trove of oral history, letters, and journals.
Originally published in two volumes in 1941, this new, abridged edition of Emily Donelson of Tennessee is an engaging account of a woman who embraced traditional nineteenth-century gender roles. Additionally, the book highlights the author's own responses to the changing position of women in society.
The Author: Pauline Wilcox Burke (1884–1952) was the great-granddaughter of Emily Donelson.
The Editor: Jonathan M. Atkins, an associate professor of history at Berry College in Mt. Berry, Georgia, is the author of numerous articles and the book Parties, Politics, and the Sectional Conflict in Tennessee, 1832–1861.