Earthen Walls, Iron Men
Fort DeRussy, Louisiana, and the Defense of Red River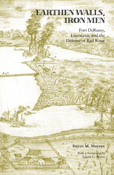 "This book will be of great use to historians of the western theatre of the Civil War, to the reader of nineteenth-century history, and to students of the undergraduate and graduate levels. -Gary D. Joiner, author of Through the Howling Wilderness: The 1864 Red River Campaign and Union Failure in the West
Earthen Walls, Iron Men tells the story of Fort DeRussy, Louisiana, a major Confederate fortification that defended the lower Red River in 1863-64 during the last stages of the Civil War. Long regarded as little more than a footnote by historians, the fort in fact played a critical role in the defense of the Red River region. The Red River Campaign was one of the Confederacy's last great triumphs of the war, and only the end of the conflict saved the reputations of Union leaders who had recently been so successful at Vicksburg. Fort DeRussy was the linchpin of the Confederates' tactical and strategic victory.
Steven M. Mayeux does more than just tell the story of the fort from the military perspective; it goes deeper to closely examine the lives of the people that served in-and lived around-Fort DeRussy. Through a thorough examination of local documents, Mayeux has uncovered the fascinating stories that reveal for the first time what wartime life was like for those living in central Louisiana.
In this book, the reader will meet soldiers and slaves, plantation owners and Jayhawkers, elderly women and newborn babies, all of whom played important roles in making the history of Fort DeRussy. Mayeux presents an unvarnished portrait of the life at the fort, devoid of any romanticized notions, but more accurately capturing the utter humanity of those who built it, defended it, attacked it, and lived around it.
Earthen Walls, Iron Men intertwines the stories of naval battles and military actions with those human elements such as greed, theft, murder, and courage to create a vibrant, relevant history that will appeal to all who seek to know what real life was like during the Civil War.
Steve Mayeux is a graduate of LSU and a former Marine officer. His work as an agricultural consultant in the central Louisiana area for the past thirty years has given him a great appreciation for the history and geography of the lower Red River.