Dorie: Woman of the Mountains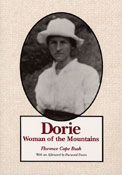 Before the Great Smoky Mountains became a national park, the region was a lush wilderness dotted with isolated farms.  Into this land of unspoiled beauty, Dorie Woodruff Cope was born in 1899.  In this evocative memoir, Dorie's daughter, Florence Cope Bush, traces a life at once extraordinary and yet typical of the many Appalachian farm families forced to leave their simple mountain homes for the cities; abandoning traditional ways for those born of "progress."
Dorie's story begins with her childhood on an isolated mountain farm, where we see first hand how her parents combined back-breaking labor with intense personal pride to produce everything their family needed—from food and clothing to tools and toys—from the land.  Lumber companies began to invade the mountains, and Dorie's family took advantage of the financial opportunities offered by the lumber industry, not realizing that in giving up their lands they were also letting go of a way of life.  Along with their machinery, the lumber companies brought in many young men, one of whom, Fred Cope, became Dorie's husband.  After the lumber companies stripped the mountains of their timber, outsiders set the area aside as a national park, requiring Dorie, now married with a family of her own, to move outside of her beloved mountains.
Through Dorie's eyes, we see how the mountain farmers were forced to abandon their beloved rural life-style and customs and assimilate into cities like Knoxville, Tennessee.  Her experiences were shared by hundreds of Appalachians during the early twentieth century.  However, Dorie's perseverance, strength of character, and deep love of the Smokies make this a unique and moving narrative.
The Author: Florence Cope Bush is a former newspaper reporter and freelance writer in Knoxville, Tennessee.  She is the author of Ocona Lufte Baptist—Pioneer Church of the Smokies, and a regular contributor to Smoky Mountain Historical Society publications.
Durwood Dunn is professor history at Tennessee Wesleyan College.  He is author of Cades Cove: The Life and Death of a Southern Appalachian Community, 1818-1937.