Do Real Men Pray?
Images of the Christian Man and Male Spirituality in White Protestant America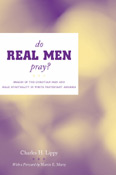 Author(s): Lippy, Charles H.
Series:
Imprint: Univ Tennessee Press
Publication Date: 0000-00-00
Status: Active
Available in Hardcover - Cloth: Price $35.00 | Buy Now
Spirituality has long been regarded as a haven of the female gender-and a component equally deficient in men-particularly among the white male Protestant population. So, it was with much surprise that the American media greeted the seemingly sudden explosion of the Promise Keepers movement with its emotional stadium rallies and vivid images of praying men openly recommitting to their faith. The shattering of a long-held stereotype brought into question the veracity behind long-held perceptions of men and the depth and nature of their piety.
In Do Real Men Pray?, author Charles H. Lippy argues that, in fact, American men have always exhibited a deep and profound spirituality. He challenges the popular belief that men somehow cannot match the profundity found in female spirituality. Instead, Lippy lays out a convincing counterargument that the United States has a long and pronounced history of male spirituality.
Do Real Men Pray? takes the reader through a chronological history of male spirituality from the colonial period to the present day. Along the way, Lippy introduces readers to six distinct, powerful images that manifested themselves as the ideal of American Protestant identity at different periods in history: the dutiful patriarch, the gentleman entrepreneur, the courageous adventurer, the efficient businessman, the positive thinker (inspired by the ubiquitous Norman Vincent Peale), and the modern-day faithful leader. From the piety of Cotton Mather to the "muscular Christianity" of the early twentieth century, this book reveals a clear understanding of the obvious effect spirituality had on men.This book is the first to address thematically the history of male spirituality in the United States and is a rich, well-documented addition to the field of religious studies.
Do Real Men Pray? will appeal to anyone with an interest in religious history in the United States as well as anyone interested in gender studies.