Dixieball
Race and Professional Basketball in the Deep South, 1947-1979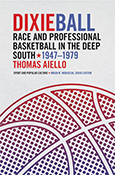 In Dixieball, Thomas Aiello considers the cultural function of professional basketball in the Deep South between 1947 and 1979. Making a strong case for the role of race in this process, Aiello ties the South's initial animus toward basketball to the same complex that motivated the region to sacrifice its own economic interests to the cause of white supremacy. Fans of basketball, as compared to other team sports, were closer to the players, who showed more of their bodies; blackness, then, had more visibility in basketball than it had in other sports. By the time Lyndon Johnson signed the Voting Rights Act in 1965, African Americans made up 47.5 percent of professional basketball players, and despite integrating later than baseball and football, it was fast becoming known as a "black" sport. Over time, survival for southern teams grew more tenuous, fan support more fickle, and racial incidents between players and fans more hostile. Racism clashed with civic development in a fast-evolving region.
To identify the sources of this clash, Dixieball locates the main points of intersection between professional basketball and the Deep South in the two decades prior to the region's first major franchise. Aiello then takes readers to New Orleans, where the first major Deep South professional basketball team—the New Orleans Buccaneers—was born, and on to Atlanta, Birmingham, St. Louis, and others, leading up to 1979. Scholars of sport and Southern history alike will find Dixieball a compelling contribution to the lively, interdisciplinary discussions animating the Sport and Popular Culture series.
THOMAS AIELLO is an associate professor of history and African American stud- ies at Valdosta State University in Georgia. He is the author of several books including Jim Crow's Last Stand: Nonunanimous Criminal Jury Verdicts in Louisiana, and The Kings of Casino Park: Black Baseball in the Lost Season of 1932.