Decisions at Kennesaw Mountain
The Eleven Critical Decisions That Defined the Battle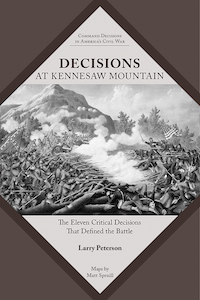 As Gen. William Tecumseh Sherman swept through Georgia in 1864, he fought several small battles against an ever-retreating Gen. Joseph E. Johnston who had replaced the beleaguered Gen. Braxton Bragg as leader of the Confederate Army of Tennessee. After heavy rains slowed Sherman's advance, Johnston's army entrenched along the Brushy Mountain line. Hemmed in by the mountains and impassable roads, Sherman noted in his reports to Washington, "Kennesaw is the key to the whole country." Ultimately, Sherman would outflank Johnston and grind down his army's defenses with a brazen frontal assault. Federal forces suffered 3,000 casualties compared to Johnston's 1,000, and yet the Confederate Army of Tennessee was forced to retreat to Smyrna, and continued defeats led to Sherman's infamous burning of Atlanta in August of 1864.
Decisions at Kennesaw Mountain explores the critical decisions made by Confederate and Federal commanders during the battle and how these decisions shaped its outcome. Rather than offering a history of the battle, Larry Peterson hones in on a sequence of command decisions that provides us, retroactively, with a blueprint of the Battle of Kennesaw Mountain at its tactical core. Identifying and exploring the critical decisions in this way allows students of the battle to progress from a knowledge of what happened to a mature grasp of why events happened.
Complete with maps and a driving tour, Decisions at Kennesaw Mountain is an indispensable primer, and readers looking for a concise introduction to the battle can tour this sacred ground—or read about it at their leisure—with key insights into the campaign and a deeper understanding of the Civil War itself.
Decisions at Kennesaw Mountain is the seventeenth in a series of books that will explore the critical decisions of major campaigns and battles of the Civil War.
LARRY PETERSON retired from United Airlines as a Boeing 757/767 Standards Captain. He is the author of four other books in the Command Decisions series: Decisions at Chattanooga, Decisions of the Atlanta Campaign, Decisions of the 1862 Kentucky Campaign, and Decisions at Perryville. He also served as president of the Rocky Mountain Civil War Round Table for five years.