Decisions at Gettysburg
The Nineteen Critical Decisions That Defined the Campaign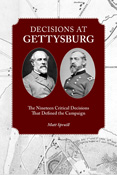 The Campaign and Battle of Gettysburg have inspired scrutiny from virtually every angle. Standing out amid the voluminous scholarship, this book is not merely one more narrative history of the events that transpired before, during, and after those three momentous July days in southern Pennsylvania. Rather, it focuses on and analyzes nineteen critical decisions by Union and Confederate commanders that determined the particular ways in which those events unfolded.
Matt Spruill, a retired U.S. Army colonel who studied and taught at the U. S. Army War College in Carlisle, Pennsylvania, contends that, among the many decisions made during any military campaign, a limited number—strategic, operational, tactical, organizational—make the difference, with subsequent decisions and circumstances proceeding from those defining moments. At Gettysburg, he contends, had any of the nineteen decisions he identifies not been made and/or another decision made in its stead, all sorts of events from those decision points on would have been different and the campaign and battle as we know it today would appear differently. The battle might have lasted two days or four days instead of three. The orientation of opposing forces might have been different. The battle could well have occurred away from Gettysburg rather than around the town. Whether Lee would have emerged the victor and Meade the vanquished remains an open question, but whatever the outcome, it was the particular decision-making delineated here that shaped the campaign that went into the history books.
Along with his insightful analysis of the nineteen decisions, Spruill includes a valuable appendix that takes the battlefield visitor to the actual locations where the decisions were made or executed. This guide features excerpts from primary documents that further illuminate the ways in which the commanders saw situations on the ground and made their decisions accordingly.