Day Hiking the Daniel Boone National Forest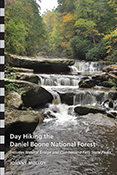 Kentucky's Daniel Boone National Forest is one of the crown jewels of the Bluegrass State's outdoor attractions. Yet until now, there has been no detailed guidebook on this beautiful area. Johnny Molloy, a veteran guidebook writer, has compiled a detailed resource for enjoyable adventures in the Daniel Boone National Forest (DBNF).
In this guide, Molloy leads readers through forty hikes within the natural wonders of DBNF, including Natural Bridge and Cumberland Falls. Descriptions of each hike are straightforward and accurate, so readers can focus on enjoying natural features, scenic overlooks, interesting geological formations, and landmarks along the trails. Hikers will see the best of the Cumberland Plateau, from exquisite arches to bluffs that offer extensive vistas to waterfalls that descend into sandstone cathedrals. The paths tread through deep forests in gorges cut by creeks and rivers and atop the Cumberland Plateau, where oak and pine forests range long distances. Rockhouses, caves, and other geological features stand out in these rich woodlands. Hikers may also encounter protected plants and animals along these trails, including the red-cockaded woodpecker, Virginia big-eared bat, freshwater mussels, white-haired goldenrod, and the black bear.
Detailed, easy-to-follow directions for each trail will allow hikers to progress on their chosen course without frustrating detours. The hikes range in distance, difficulty, and destination, offering the full breadth of hiking experiences to be had within the DBNF. The shortest hike is under a mile, and the longest is ten, with most somewhere in the middle. Hikers can use the chart at beginning of the book to select the perfect trail for their experience level and desires. Also included are detailed trail maps and photos.
For the new hiker as well as the experienced outdoor adventurer, Day Hiking Kentucky's Daniel Boone National Forest is sure to become an indispensable guide to one of Kentucky's national treasures.
Johnny Molloy has published more than sixty books about hiking and other forms of outdoor adventure, including Trial by Trail: Backpacking in the Smoky Mountains, second edition, and Mount Rogers National Recreation Area Guidebook: A Complete Resource for Outdoor Enthusiasts, third edition.