David Madden
A Writer for All Genres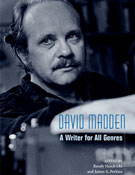 Author(s): Hendricks, Randy J. and James A. Perkins, eds.
Series:
Imprint: Univ Tennessee Press
Publication Date: 2006-10-09
Status: Active
Available in Hardcover - Cloth: Price $34.95 | Buy Now
For four decades, Knoxville, Tennessee, native David Madden has been writing compelling bestsellers, such as Bijou and The Suicide's Wife, as well as highly respected literary novels, such as Sharpshooter. David Madden: A Writer for All Genres is the first full-length critical work devoted to the whole of Madden's oeuvre, and collectively the essays make the case that the attention paid to Madden's novels has overshadowed his innovative work as a critic, poet, short-story writer, and dramatist.
Madden is indeed a writer for all genres—poetry, fiction, drama, and criticism. Having compiled the volume to "help all readers understand Madden better," co-editors Randy Hendricks and James A. Perkins have assembled eight essays by various authors devoted to analyzing and understanding the legendary David Madden and how he spins his craft. The uniformly high caliber of the contributors is testimony to the interest Madden's work has generated. These include poet and fiction writer George Garrett on Madden's poetry; critic James H. Justus on Madden as a playwright; critic Jeffrey J. Folks on Madden's complex relationships with his home town and James Agee; Randy Hendricks on Madden's criticism; fiction writer Allen Wier on Madden's Civil War fiction; critic William Schafer on Madden's early novels; critic Aimee Berger on The Suicide's Wife; and poet and critic James Perkins on his short fiction. Their essays on Madden's work are augmented by a long interview with Madden and by an extensive selected bibliography.
David Madden: A Writer for all Genres will introduce a new generation of readers to an important and multitalented writer and begin a well-deserved, serious discussion of his place in the American literary tradition.