Dark Symbols, Obscure Signs
God, Self, And Community In The Slave Mind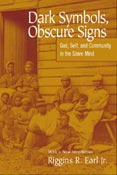 Author(s): Earl, Riggins R.
Series:
Imprint: Univ Tennessee Press
Publication Date: 2003-03-31
Status: Active
Available in Paper: Price $29.95 | Buy Now
In Dark Symbols, Obscure Signs, Riggins R. Earl Jr. investigates how slave owners intentionally manipulated Christianity as they passed it on to slaves and demonstrates how slaves successfully challenged that distorted interpretation. Analyzing slaves' response to Christianity as expressed in testimonies, songs, stories, and sermons, Earl reveals the conversion experience as the initial step toward an autonomy that defied white control. Contrary to what their white owners expected or desired, enslaved African Americans found in Christianity a life-affirming identity and strong sense of community.
Slave owners believed Christianity would instill docility and obedience, but the slaves discovered in the Bible a different message, sharing among themselves the "dark symbols and obscure signs" that escaped the notice of their captors. Finding a sense of liberation rather than submission in their conversion experience, slaves discovered their own self-worth and their values as children of God.
Originally published in 1993, Dark Symbols, Obscure Signs traces the legacy of slaves' embrace of Christianity both during and after the slavery era. In a new introduction, the author places the book within the context of contemporary scholarship on the roots of the African American cultural experience. He argues that any interpretation of this experience must begin with a foundational study of the theological and ethical constructs that have shaped the way blacks understand themselves in relationship to God, their oppressors, and each other.
The Author: Riggins R. Earl Jr. teaches at the Interdenominational Theological Center in Atlanta.