Cuban-Jewish Journeys
Searching for Identity, Home, and History in Miami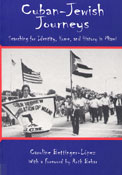 Author(s): Bettinger-López, Caroline
Series:
Imprint: Univ Tennessee Press
Publication Date: 2000-12-15
Status: Active
Available in Paper: Price $29.95 | Buy Now
Between ten and fifteen thousand persons of Cuban-Jewish heritage currently live in Miami. Until now, however, this vibrant community and its unique traditions have, to a large extent, escaped the notice of ethnographers, historians, and other scholars. In Cuban-Jewish Journeys, Caroline Bettinger-López remedies that neglect with an engaging, in-depth look at a people whose rich mix of cultures confounds typical ethnic images.
The author begins by investigating the history and development of the Cuban-Jewish community, tracing its origins back to Jewish enclaves in Eastern Europe, Russia, and the Mediterranean. She explores how these people came to Cuba in the first half of the twentieth century and how they eventually resettled in the United States as part of the larger Cuban migration that followed Fidel Castro's 1959 revolution. In recounting this history, Bettinger-López draws heavily on numerous stories told to her by Cuban Jews in Miami and elsewhere.
Those oral histories also form the basis of Bettinger-López's subsequent exploration of the identity and assimilation issues facing "Jewbans" (as many in Miami began calling themselves in the 1970s). She found that place and date of birth, for instance, may affect an individual's identification with a particular homeland and political ideology, which may in turn influence how the individual "remembers" Cuban-Jewish history. The future of Miami's Jewban community, she suggests, now lies in the hands of a generation that, for the most part, has grown up within the United States. Already, the community is transforming itself linguistically, culturally, and religiously to accommodate the younger generation.
Skillfully interweaving historical analysis, personal reflections, inter-generational stories, theories of diaspora, photographs, and current debates on ethnographic writing, Cuban-Jewish Journeys will appeal not only to scholars but to anyone interested in the ever-changing face of multicultural America.
The Author: Caroline Bettinger-López, a native of Miami, studied anthropology at the University of Michigan. Since her graduation, she has worked in various teaching and social-service positions in Miami. Most recently, she has taught disadvantaged children in Haiti.