Correspondence of James K. Polk, Vol. 14
April 1848–June 1849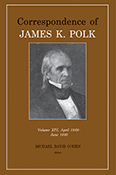 Author(s): Cohen, Michael David, editor
Series: Correspondence of James K. Polk
Imprint: University of Tennessee Press
Publication Date: 2021-05-03
Status: Active
Available in Hardcover - Cloth: Price $145.00 | Buy Now
The final volume of the Correspondence of James K. Polk documents the end of a presidency and the end of a life. With the Mexican War over, Polk focused on integrating new lands into the country, resolving discord over slavery, and planning for a retirement that proved all too short. His letters of April 1848 to June 1849 reveal his and his contemporaries' thoughts on a nation racing from an international conflict toward a civil war.
Having won half of Mexico's land, Polk wanted to create territorial or state governments for New Mexico and California. He chafed under Congress's inability to agree on whether to permit slavery there. Clashes in New Mexico, Oregon, and Yucatán, meanwhile, involved Americans in further violence. Like many Americans, Polk welcomed the republican revolutions that swept Europe. But he soon learned that conservative armies were reversing those gains. From here at home, he received petitions by Native Americans to remedy ill treatment by an administration intent on their removal.
Though he refused to seek reelection, Polk closely followed the presidential campaign of 1848. Stung by the victory of Zachary Taylor, one of his chief generals and now a leading Whig, he still happily left the White House for his retirement in Nashville. In his new mansion he hoped to rest and socialize while continuing to profit from the labor of slaves on his Mississippi plantation.
His voyage home, alas, took Polk through a US entry point of a worldwide cholera pandemic. He arrived in Tennessee ill and died only three months after leaving office. Others were left to mourn the fifty-three-year-old, to assess his legacy, and to deal with the consequences of his actions.
Right to the end, Polk corresponded with diverse men and women. This volume includes letters by future presidents, to a past first lady, and by the newly installed Vicaire of the German Empire. It includes letters by pro-annexation Cubans, to India's poet laureate, and by a planter who would become one of the earliest female physicians. Presented here with full annotation, they illuminate politics, diplomacy, economy, and culture.
This volume concludes a six-decade-long project to render accessible key primary sources in US history. From slave escapes to presidential lies and from gas lighting to temperance reform, the letters herein expose controversy and change at the end of one of America's most consequential presidencies.
MICHAEL DAVID COHEN edited or coedited volumes 12–14 of the Correspondence of James K. Polk. The author of Reconstructing the Campus: Higher Education and the American Civil War, he is a research professor of government at American University where he serves as the editor and project director of the Correspondence of Zachary Taylor and Millard Fillmore.