Cornerstone of the Confederacy
Alexander Stephens and the Speech that Defined the Lost Cause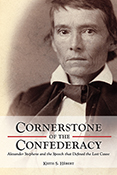 "In 1861, Confederate Vice President Alexander Stephens proclaimed with pride that white supremacy was the 'cornerstone' of his new nation. In this pioneering study, Keith Hebert locates Stephens and his speech in deep context, and follows their torturous path though American culture from the Fort Sumter to the digital age. This will be a central text for readers who hope to better understand the Civil War and comprehend its knotty legacy."—Kenneth W. Noe, author of The Howling Storm: Weather, Climate, and the American Civil War
"Keith Hebert's astute new study comes as a welcome addition to the burgeoning scholarship on Civil War memory and meaning. Focusing on Stephens's pronouncement of slavery as the Confederacy's cornerstone, this book is a fresh, full-bodied treatment of white supremacy and its legacy, and of the remarkable staying power of the Lost Cause's most 'inconvenient truth."—John C. Inscoe, University of Georgia
"This exploration of one major speech, within its time frame and much beyond, shows the myriad ways in which we think about, talk about, and write about historical ideas. Hebert refutes any cultural amnesia about the intellectual tradition of Stephens and the Confederacy, and he demolishes the aggressive articulations of white supremacy that are distorted as honoring 'heritage.'" —Orville Vernon Burton, author of The Age of Lincoln
___________________________________________
Born in early 1812 in Crawfordville, Georgia, Alexander Stephens grew up in an antebellum South that would one day inform the themes of his famous Cornerstone Speech. While Stephens made many speeches throughout his lifetime, the Cornerstone Speech is the discourse for which he is best remembered. Stephens delivered it on March 21, 1861—one month after his appointment as vice president of the Confederacy—asserting that slavery and white supremacy comprised the cornerstone of the Confederate States of America. Within a few short weeks, more than two hundred newspapers worldwide had reprinted Stephens's words.
Following the war and the defeat of the Confederacy, Stephens claimed that his assertions in the Cornerstone Speech had been misrepresented, his meaning misunderstood, as he sought to breathe new and different life into an oration that may have otherwise been forgotten. His intentionally ambiguous rhetoric throughout the postwar years obscured his true antebellum position on slavery and its centrality to the Confederate Nation and lent itself to early constructions of Lost Cause mythology.
In Cornerstone of the Confederacy, Keith Hébert examines how Alexander Stephens originally constructed, and then reinterpreted, his well-known Cornerstone Speech. Hébert illustrates the complexity of Stephens's legacy across eight chronological chapters, meticulously tracing how this speech, still widely cited in the age of Black Lives Matter, reverberated in the nation's consciousness during Reconstruction, through the early twentieth century, and in debates about commemoration of the Civil War that live on in the headlines today.
Audiences both inside and outside of academia will quickly discover that the book's implications span far beyond the memorialization of Confederate symbols, grappling with the animating ideas of the past and discovering how these ideas continue to inform the present.
KEITH S. HÉBERT is an associate professor and public history officer at Auburn University. He is the author of The Long Civil War in the North Georgia Mountains: Confederate Nationalism, Sectionalism, and White Supremacy in Bartow County, Georgia, which won a Choice Outstanding Academic Title award.