Cormac McCarthy's Violent Destinies
The Poetics of Determinism and Fatalism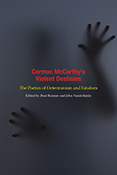 "Cormac McCarthy's Violent Destinies is an intelligently assembled, thoughtful, and original collection of essays that, together, form a useful point of reference in the literature that is greater than the sum of its parts. Indeed, as a good collection should, this one provides both nuance and variety, and the editors focus the spotlight tightly on their themes illuminating McCarthy's richly productive fiction."—Nicholas Monk, director of Warwick University's Centre for Innovation in Teaching and Learning and author of True and Living Prophet of Destruction: Cormac McCarthy and Modernity
____________________________
Since the release of his first novel, The Orchard Keeper, in 1965, Cormac McCarthy's characters, intricate plots, and sometimes forbidding settings have captivated the attention of countless readers while exploring deep philosophical problems, including that of human agency and free will. This multiauthor volume places the full range of his novels in historical, literary, and cultural contexts and shifts the focus of critical engagement to questions of determinism, fatalism, and free will. Essayists over the course of eleven chapters show how McCarthy's protagonists and antagonists often confront grotesque realities and destinies, and find themselves prey to incessant subconscious and uncontrollable forces. In the process, these scholars reveal that McCarthy's works arrive thoroughly tinctured with religious complexities, ambiguities of ancient and modern thinking, and profoundly splintered notions of morality, freedom, and ethics. Consequently, McCarthy's philosophical depth, mastery of language, and sometimes shocking psychological analysis are brought into sharp focus for longtime readers. With new scholarship from eminent critics, an accessible style, and precise attention to the lesser-known works, Cormac McCarthy's Violent Destinies re-introduces the Pulitzer Prize-winning novelist's work under the twin themes of fatalism and determinism.
BRAD BANNON is a lecturer in the Department of English at the University of Tennessee, Knoxville. He is the author of Jonathan Edwards, Samuel Taylor Coleridge, and the Supernatural Will in American Literature, forthcoming from Routledge and his essays have appeared in the James Joyce Quarterly, Journal of the History of Ideas, The Cormac McCarthy Journal, and the edited collection Melville and Religion: Visionary of the Word. 
 JOHN VANDERHEIDE is an assistant professor in the Department of English and Cultural Studies at Huron University College in London, Ontario, Canada. His work has appeared in Arcadia: International Journal of Literary Studies, Cormac McCarthy Journal, and Symposium: Canadian Journal of Continental Philosophy.