Constance Fenimore Woolson
Selected Stories and Travel Narratives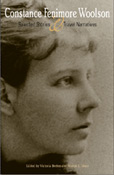 Author(s): Brehm, Victoria and Sharon L. Dean, eds.
Series:
Imprint: Univ Tennessee Press
Publication Date: 2004-11-03
Status: Active
Available in Hardcover - Cloth: Price $44.00 | Buy Now
American writer and world traveler Constance Fenimore Woolson (1840–1894) was author of more than fifty short stories, four novels, a novella, and numerous poems and travel essays. During her lifetime, she achieved both popular and critical success, but much of her work is no longer available. This volume, as the first anthology to collect representative samples of her stories, travel sketches, poems, and correspondence, represents a major advance toward re-establishing her place in nineteenth-century literature and letters. As these pieces demonstrate, Woolson offered keen observations on the issues she cared most deeply about, namely the cultural and political transformation of the United States in the wake of the Civil War, the status of women writers and artists in the nineteenth century, and the growing implications of nationalism and imperialism.
Woolson grew up in Cleveland, Ohio, and began her career writing regional travel stories about the closing of the American frontier in the old Northwest Territories (now known as the Great Lakes region). During the Civil War, she worked for a variety of Union causes and in 1873 moved to St. Augustine, Florida. Traveling throughout the South, she wrote stories and travel narratives that highlighted the wholesale changes facing Americans after the Civil War.
In 1879, Woolson left the United States for Europe. There, she engaged her passion for nature and exercised her gift for social satire. In her European writings, she deplored the Americans' slavish devotion to the ubiquitous guidebooks of the nineteenth century, and she chose instead to spend long periods of time in one place in order to better learn about it. Throughout her time in Europe (including visits to North Africa), Woolson often commented that she could not describe landscapes, only experience them. By the time of her death in Venice at age fifty-three, she had become convinced that the colonial agendas of the United States and Europe would transform landscapes and peoples in far-reaching and ultimately dangerous ways.
This collection features selections from each of the three distinct periods of Woolson's career and includes a chronology of her life and travels. Focusing primarily on Woolson's short stories, editors Victoria Brehm and Sharon L. Dean also include a representative letter, poem, and travel sketch for each section.
Victoria Brehm is associate professor of English at Grand Valley State University. She is editor of three anthologies, including "A Fully Accredited Ocean": Essays on the Great Lakes and Sweetwater, Storms, and Spirits: Stories of the Great Lakes.
Sharon L. Dean is professor of English at Rivier College and is author of Constance Fenimore Woolson: Homeward Bound and Constance Fenimore Woolson and Edith Wharton: Perspectives on Landscape and Art.