Complete Film Criticism
Reviews, Essays, and Manuscripts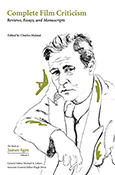 Author(s): Maland, Charles
Series: The Works of James Agee, Volume 5
Imprint: University of Tennessee Press
Publication Date: 0000-00-00
Status: Active
Available in Hardcover - Cloth: Price $99.00 | Buy Now
A distinguished writer in multiple genres—fiction, poetry, screenwriting, social documentary— James Agee first gained widespread recognition as a movie reviewer and critic. In October 1944, not quite two years after he became the film columnist for the Nation, no less an eminence than poet W. H. Auden judged Agee's reviews to be "the most remarkable regular event in journalism today."
Scrupulously edited by Charles Maland, this volume stands as the definitive collection of Agee's film writing. Not only does it include all of his bylined Nation reviews (December 1942–September 1948), but it also brings together for the first time the entirety of his unsigned reviews and cover stories for Time (September 1942–November 1948), as identified by the magazine's archivist, Bill Hooper. Also included are various essays Agee produced for other publications—ranging from a prep school appreciation of F. W. Murnau's The Last Laugh to his celebrated Life magazine pieces on director John Huston and the great comedians of the silent era—as well as several previously unpublished manuscripts found in the Agee collections at the Universities of Tennessee and Texas, which offer additional insight into Agee's thoughts on movies and on film reviewing.
A constant moviegoer since childhood, Agee wrote about film with wit, keen perception, and high standards, always quick to express disappointment when a movie failed, in his eyes, to live up to what it might have been. But when a movie truly worked for him—William Wellman's The Story of G. I. Joe, Charles Chaplin's Monsieur Verdoux, and Huston's The Treasure of the Sierra Madre are key examples—Agee could be both generous with praise and brimming with insight about the precise features he found so laudable.
Including an extensive introduction that details Agee's years as a film reviewer, significant characteristics of his style and aesthetic, and his broad influence on later critics, this volume will encourage a fresh understanding of both a remarkable writer and the medium he loved so much.
CHARLES MALAND is the J. Douglas Bruce Professor of English at the University of Tennessee. His books include Chaplin and American Culture: The Evolution of a Star Image and American Visions: The Films of Chaplin, Ford, Capra, and Welles.