Common Bondage
Slavery as Metaphor in Revolutionary America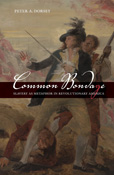 Author(s): Dorsey, Peter A.
Series:
Imprint: Univ Tennessee Press
Publication Date: 2009-02-28
Status: Active
Available in Hardcover - Cloth: Price $43.95 | Buy Now
"This is a brilliant book that I believe will make a very valuable and original contribution to the way scholars understand the use of language in the era of the American Revolution and the origin and limited nature of Revolutionary era anti-slavery sentiment."—Robert Olwell, author of Master, Slaves, and Subjects: The Culture of Power in the South Carolina Low Country, 1740–1790
In the American revolutionary era, the antislavery rhetoric of certain founding fathers often took on a life of its own. The distinctions they drew between the British imperial order and the bright dawn of liberty in a new American republic seemed, at times, to compel the freedom of the slaves as well as the freedom of white colonists. But Peter A. Dorsey shows that this rhetoric was often more strategic than principled, and he argues that understanding this ploy helps to explain why an early antislavery movement failed to achieve its goals once the American Revolution was over.
In Common Bondage, Dorsey examines how patriots and those who opposed them understood slavery within a broader tradition of revolutionary thought. Especially prominent in the rhetoric and reality of the eighteenth century, this fluid concept was applied to a wide variety of events and values and was constantly being redefined. Dorsey explains the classical meaning of rhetoric as "to persuade" but notes that it can also mean "to mask" or "to mislead." He shows how these different senses of the word merged, as revolutionary rhetoric was used to achieve limited ends.
By examining the figurative extension of slavery in revolutionary rhetoric, Dorsey recaptures the transforming energy of the ideas it promoted and points toward a better understanding of the regressive aftermath. The resulting composite psychology of the slave-holding culture that existed during the country's formative years allows us to better trace the development of American racism. Peter A. Dorsey is the chair of the English Department at Mt. Saint Mary's University in Emmitsburg, Maryland. He is the author of Sacred Estrangement: The Rhetoric of Conversion in Modern American Autobiography.