Civil War Flags of Tennessee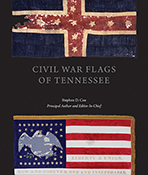 "This volume is well conceived, organized, and executed. The essays are impressive, and the writing style will engage both scholars and the larger public."—John D. Fowler, author of Mountaineers in Gray: The Nineteenth Tennessee Volunteer Infantry Regiment, C.S.A.
________________________
Civil War Flags of Tennessee provides information on all known Confederate and Union flags of the state and showcases the Civil War flag collection of the Tennessee State Museum. This volume is organized into three parts. Part 1 includes interpretive essays by scholars such as Greg Biggs, Robert B. Bradley, Howard Michael Madaus, and Fonda Ghiardi Thomsen that address how flags were used in the Civil War, their general history, their makers, and preservation issues, among other themes. Part 2 is a catalogue of Tennessee Confederate flags. Part 3 is a catalogue of Tennessee Union flags. The catalogues present a collection of some 200 identified, extant Civil War flags and another 300 flags that are known through secondary and archival sources, all of which are exhaustively documented. Appendices follow the two catalogue sections and include detailed information on several Confederate and Union flags associated with the states of Mississippi, North Carolina, and Indiana that are also contained in the Tennessee State Museum collection.
Complete with nearly 300 color illustrations and meticulous notes on textiles and preservation efforts, this volume is much more than an encyclopedic log of Tennessee-related Civil War flags. Stephen Cox and his team also weave the history behind the flags throughout the catalogues, including the stories of the women who stitched them, the regiments that bore them, and the soldiers and bearers who served under them and carried them. Civil War Flags of Tennessee is an eloquent hybrid between guidebook and chronicle, and the scholar, the Civil War enthusiast, and the general reader will all enjoy what can be found in its pages.
Unprecedented in its variety and depth, Cox's work fills an important historiographical void within the greater context of the American Civil War. This text demonstrates the importance of Tennessee state heritage and the value of public history, reminding readers that each generation has the honor and responsibility of learning from and preserving the history that has shaped us all—and in doing so, honoring the lives of the soldiers and civilians who sacrificed and persevered.
Recently retired, STEPHEN D. COX dedicated thirty-four years to the Tennessee State Museum, having curated six major exhibitions in multiple capacities during his time there. He is the author of Art and Artisans of Prehistoric Middle Tennessee and Landscape Vision: Works of Charles Brindley, and his articles have appeared in Tennessee Conservationist and The Tennessee Encyclopedia of History and Culture.