Circling Windrock Mountain
Two Hundred Years in Appalachia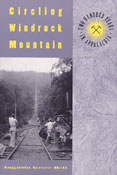 Author(s): Bell, Augusta Grove
Series:
Imprint: Univ Tennessee Press
Publication Date: 1999-03-19
Status: Active
Available in Paper: Price $29.95 | Buy Now
Around 1800, a Revolutionary War veteran named Micajah Frost came to the Cumberland Mountains of East Tennessee and cleared a portion of virgin forest in what is now Anderson County. Others followed, and eventually this small area was dotted with settlers. In the years since, those settlers and their descendants witnessed the strife of the Civil War, the rise of the coal-mining and logging industries, the coming of the railroad, and countless smaller upheavals. Drawn largely from the memories of long-time residents, this delightful book revisits two hundred years of history in the communities surrounding what was locally called Windrock Mountain.
The stories Augusta Bell recounts take us from Oliver Springs—which had its origins in the grist mill Moses Winters built in 1799 and which later became a "boom town" with a fashionable resort hotel—to places like New River Valley, Graves Gap, and Duncan Flats. She depicts the everyday lives of the mountain people as well as the extraordinary events that sometimes shattered those lives—such as the Coal Creek War of 1891–93, in which miners squared off against state militia, and the two mine explosions that came a few years later, sealing up 268 men deep inside the mountain. Bell also tells of happier times, as when the famous Windrock Mine opened above Oliver Springs in 1909.
Tapping a rich lode of folklore and oral tradition, along with other historical sources, Circling Windrock Mountain offers a view of Appalachian life that defies old stereotypes. Far from being static, the communities described here saw an amazing variety of changes to which they adapted with resilience and ingenuity.
The Author: Augusta Grove Bell, a writer who now lives in Charlotte, North Carolina, has been a newspaper reporter and teacher. From 1958 to 1970, she lived in Anderson County, Tennessee, where she worked for the Oak Ridger and wrote feature stories that form much of the basis for this book.