Cave Archaeology of the Eastern Woodlands
Papers in Honor of Patty Jo Watson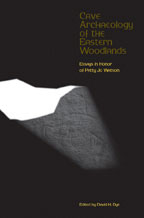 Author(s): Dye, David H.
Series:
Imprint: Univ Tennessee Press
Publication Date: 2008-01-01
Status: Active
Available in Hardcover - Cloth: Price $42.95 | Buy Now
Patty Jo Watson's prolific career began in the early 1950s as an energetic graduate student at the University of Chicago and culminated with her induction into the National Academy of Sciences and subsequent retirement from Washington University in 2003. During that time her groundbreaking research impacted multiple fields within the discipline of archaeology, but her astonishing research into the underground caves of the eastern United States recognizes her as one of the world's leading experts on cave archaeology.
In honor of Dr. Watson and her monumental achievements in the field, twenty-two established scholars present in this volume new and insightful research into prehistoric and historic use of southeastern dark zones. Cave Archaeology of the Eastern Woodlands, edited by David H. Dye, explores how prehistoric and historic peoples utilized caves as a means to further their economic growth and represent cultural values within their societies. The essays range in topics from early gypsum mining to rare American Indian cave art, from historic saltpeter extraction to current archaeobotanical and paleofecal research. Dye and the contributors contend that studies of deep zone caves reveal multiple insights into the values, beliefs, and cultural lifeways of ancient and historic peoples.
In addition to presenting new research in the field, contributors also place particular emphasis on Dr. Watson's influential cave research and how it has molded their own work. The essays convey a sense of wonder at the unique and sometimes harrowing world of caves, and readers will get a sense of why Native Americans regarded the Underworld or Beneathworld as a supernatural realm to be tread upon with great respect and caution. This volume of uniformly excellent essays will no doubt be a lantern that sheds light onto the importance of studying and understanding the all too secret world of underground caves.
David H. Dye is professor of archaeology in the Department of Earth Sciences at the University of Memphis and a former student of Patty Jo Watson's. He is author of Cycles of Violence: An Archaeology of Peace and War in Native Eastern North American, coeditor, with Richard J. Chacon, of The Taking and Displaying of Human Body Parts as Trophies by Amerindians, and, with Cheryl Anne Cox, of Towns and Temples Along the Mississippi.