Catfishing in the South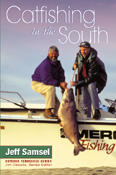 Author(s): Samsel, Jeff
Series: Outdoor Tennessee Series
Imprint: Univ Tennessee Press
Publication Date: 2003-08-29
Status: Active
Available in Paper: Price $19.95 | Buy Now
Serious sport catfishing has gained tremendous popularity in recent years, but a dearth of serious catfishing information inhibits the complete angler. Jeff Samsel of Clarkesville, Georgia, fills the gap with Catfishing in the South, a comprehensive guide to finding and catching catfish in the southeastern United States.
No other catfishing book focuses on southern rivers and reservoirs, where this type of fishing is most popular. Beyond looking at species, habitats, gear, baits, and strategies from the perspective of the southern catfisher, Catfishing in the South includes detailed looks at several of the South's premier destinations for trophy catfish. Samsel also presents information on catching smaller cats and on fishing from banks.
Relying on his own experience and on the expertise of individual veteran catfishers, some of whose faces show up in the twenty-nine photographs that illustrate the book, Samsel provides readers with all the tools they need for finding and catching all kinds of catfish from southern waters
The Author: Jeff Samsel is a freelance magazine writer, photographer, and editor. He is author of Georgia: A Guide to Backcountry Travel and Adventure. He contributed to Catfishing Strategies and has published articles and photographs in more than one hundred publications, including Bassmaster, Catfish Guide, North American Fisherman and Southern Sporting Journal.