Cas Walker
Stories on His Life and Legend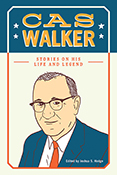 Businessman, politician, broadcasting personality, and newspaper publisher, Cas Walker (1902–1998) was, by his own estimation, a "living legend" in Knoxville for much of the twentieth century. Renowned for his gravelly voice and country-boy persona, he rose from blue-collar beginnings to make a fortune as a grocer whose chain of supermarkets extended from East Tennessee into Virginia and Kentucky. To promote his stores, he hosted a local variety show, first on radio and then TV, that advanced the careers of many famed country music artists from a young Dolly Parton to Roy Acuff, Chet Atkins, and Bill Monroe. As a member of the Knoxville city council, he championed the "little man" while ceaselessly irritating the people he called the "silk-stocking crowd."
This wonderfully entertaining book brings together selections from interviews with a score of Knoxvillians, various newspaper accounts, Walker's own autobiography, and other sources to present a colorful mosaic of Walker's life. The stories range from his flamboyant advertising schemes—as when he buried a man alive outside one of his stores—to memories of his inimitable managerial style—as when he infamously canned the Everly Brothers because he didn't like it when they began performing rock 'n' roll. Further recollections call to mind Walker's peculiar brand of bare-knuckle politics, his generosity to people in need, his stance on civil rights, and his lifelong love of coon hunting (and coon dogs). The book also traces his decline, hastened in part by a successful libel suit brought against his muckraking weekly newspaper, the Watchdog.
It's said that any Knoxvillian born before 1980 has a Cas Walker story. In relating many of those stories in the voices of those who still remember him, this book not only offers an engaging portrait of the man himself and his checkered legacy, but also opens a new window into the history and culture of the city in which he lived and thrived.
Joshua S. Hodge received his doctorate in history from the University of Tennessee, Knoxville, before his death in 2019.