Captain Henry Wirz and Andersonville Prison
A Reappraisal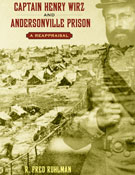 Author(s): Author R. Fred Ruhlman
Series:
Imprint: Univ Tennessee Press
Publication Date: 2006-08-15
Status: Out of Print Cancel
Available in Hardcover - Cloth: Price $Array | Buy Now
Available in Paper: Price $Array | Buy Now
Available in Kindle: Price $Array | Buy Now
Available in PDF: Price $Array | Buy Now
Martyr or murderer? Captain Henry Wirz and Andersonville Prison is an analysis that will aid readers in reaching their own conclusions about the infamous prison warden and his stint at the most notorious Confederate prison.
Andersonville prison has been the subject of much speculation and examination. This even-handed study concentrates on the dilemmas and difficulties Captain Henry Wirz faced there, as well as on the limitations of his leadership abilities. Approximately 13,000 prisoners died at Andersonville, and in the outcry in the North over the appalling conditions and terrific death toll upon the liberation of the prison, Wirz was held to be largely responsible.
R. Fred Ruhlman goes beyond merely examining the trial of Henry Wirz—which resulted in Wirz's execution—and presents his story and that of Andersonville in an engaging and thoughtful treatment. Removing the layers of mythology that have attached to Wirz over the years, Ruhlman offers a close examination of Wirz and the harsh politics and ideology, Northern and Southern, that swirled around the ending of the nation's greatest conflict.
Neither a martyr nor a murderer, Wirz was an imperfect, sometimes misguided, and always misunderstood soldier caught in the vortex of circumstance while attempting to do his duty. Commonly accepted policies and procedures for the care and treatment of prisoners and how they were applied at Andersonville are also examined.
An analysis of the rules of procedure for the military justice system that placed Wirz on trial and resulted in his execution proves how outrage helped shape the cruel last months of war and left an indelible final act to the drama of notorious Andersonville.