Cannon Mills and Kannapolis
Persistent Paternalism in a Textile Town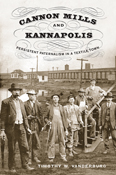 Cannon Mills was once the country's largest manufacturer of household textiles, and in many ways it exemplified the textile industry and paternalism in the postbellum South. At the same time, however, its particular brand of paternalism was much stronger and more enduring than elsewhere, and it remained in place long after most of the industry had transitioned to modern, bureaucratic management.
In Cannon Mills and Kannapolis, Tim Vanderburg critically examines the rise of the Cannon Mills textile company and the North Carolina community that grew up around it. Beginning with the founding of the company and the establishment of its mill town by James W. Cannon, the author draws on a wealth of primary sources to show how, under Cannon's paternalism, workers developed a collective identity and for generations accepted the limits this paternalism placed on their freedom. After exploring the growth and maturation of Cannon Mills against the backdrop of World War I and its aftermath, Vanderburg examines the impact of the Great Depression and World War II and then analyzes the postwar market forces that, along with federal policies and unionization, set in motion the industry's shift from a paternalistic model to bureaucratic authority. The final section of the book traces the decline of paternalism and the eventual decline of Cannon Mills when the death of the founder's son, Charles Cannon, led to three successive sales of the company. Pillowtex, its final owner, filed for bankruptcy and was liquidated in 2003.
Vanderburg uses Cannon Mills's intriguing history to help answer some of the larger questions involving industry and paternalism in the postbellum South. Complete with maps and historic photographs, this authoritative, highly readable account of one company and the town it created adds a captivating layer of complexity to our understanding of southern capitalism.