Bruce Grit
The Black Nationalist Writings of John Edward Bruce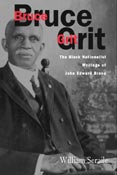 Author(s): Seraile, William
Series:
Imprint: Univ Tennessee Press
Publication Date: 0000-00-00
Status: Active
Available in Paper: Price $29.95 | Buy Now
John Edward Bruce (1856–1924) witnessed the dying days of American slavery, the turbulence of the Civil War and Reconstruction, the rise of Jim Crow, and the development of American imperialism. As a journalist, historian, and bibliophile, he was a major figure in African American history and politics during his lifetime. In this first intellectual biography of Bruce—a prolific writer and correspondent who published most frequently under the name Bruce Grit—William Seraile explores Bruce's tireless advocacy on behalf of African peoples everywhere, particularly in the United States.
Bruce wrote for more than a hundred different newspapers and founded several of them, including The Argus, Sunday Item, Washington Grit in Washington, D.C., and the Weekly Standard in Yonkers, New York. A cultural nationalist and Pan-Africanist, Bruce was known as a race-first proponent. In his quest to see that African Americans were granted full political and civil rights, he championed the contributions of African civilization to western culture as a whole, amassing an impressive collection of books, articles, and other scholarly documentation. For most of his career, he believed that African Americans would eventually be able to claim an equal share of the American Dream. However, by the end of his life, he became disillusioned and concluded that the best hope for their future lay in emigration back to Africa.
Seraile traces Bruce's shifting strategies and tactics and his alliances with famous contemporaries such as Arthur A. Schomburg, Carter G. Woodson, Booker T. Washington, and Marcus Garvey. He argues that underlying all of Bruce's work was what would become his greatest legacy: his promotion of history and culture of African people in the diaspora as valuable fields of study.
Willaim Seraile is professor of black studies at Lehman College. He is the author of Voice of Dissent: Theophilus Gould Steward and Black America, Fire in His Heart: Bishop Benjamin Tucker Tanner and the A.M.E. Church, and New York's Black Regiments During the Civil War.