Brigadier General Tyree H. Bell, C.S.A.
Forrest's Fighting Lieutenant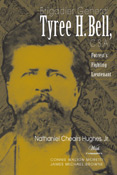 For two years, Tyree H. Bell (1814-1902) served as one of Nathan Bedford Forrest's most trusted lieutenants in the Civil War. Forrest's legendary exploits and charisma often eclipsed the contributions of his subordinates, as his story was told and retold by admiring soldiers and historians. Bell, however, stood out from others who served with Forrest. He was neither a professional soldier nor an attorney-politician; he was, instead, a farmer with no previous military experience, a model of the citizen-soldier.
Using Bell's unpublished autobiography and other primary materials, including Confederate letters, diaries, and official correspondence, author Nathaniel Cheairs Hughes, Jr., worked with Connie Walton Moretti and Jim Browne, two of Bell's great-great-great grandchildren, to augment Bell's manuscript and to write the first full-length biography of this significant Confederate soldier.
Born in Kentucky, Bell grew up on a Tennessee plantation and became a farmer and stock raiser. At the outbreak of war, his neighbors asked him to be captain of a company of volunteers they were raising for the Provisional Army of Tennessee. In 1861, he entered service with the Twelfth Tennessee Infantry and quickly became its lieutenant colonel. He distinguished himself in the battle of Belmont, where he commanded the regiment, and continued his steady performance at Shiloh.
By the following year he was promoted to colonel and led the Twelfth Tennessee in the Kentucky campaign, rejoining Kirby Smith's army for battles at Cumberland Gap, Richmond, and Perryville. After obtaining permission to leave the Army of Tennessee, he became a brigade commander under Forrest. Bell lad half of Forrest's forces in the attack at Fort Pillow as well as in numerous other battles and expeditions. After the war, Bell returned to Sumner County to resume farming and eventually moved his family to California.
In addition to giving insight into the man whose courage and leadership earned him the nickname "Forrest's Right Arm," the authors explore Bell's early years in Tennessee and his adventurous postwar career in business and land speculation. This portrait of Bell is one of an unsung leader who risked much to fight for the Confederacy.
Nathaniel Cheairs Hughes, Jr., is the author of a number of books, including The Pride of the Confederate Artillery: The Washington Artillery in the Army of Tennessee, and General William J. Hardee, C.S.A. He is also coauthor of Theodore O'Hara: Poet-Soldier of the Old South and coeditor of Military Memoirs of Brigadier General William Passmore Carlin, U.S.A. He lives in Chattanooga, Tennessee.