Breaking the Mold
The University of Tennessee, Battelle and the Resurgence of Oak Ridge National Laboratory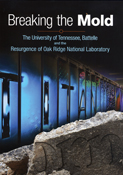 Author(s): Millhorn, David, Stacey Patterson, and Billy Stair, eds.
Series:
Imprint: Univ Tennessee Press
Publication Date: 2013-02-28
Status: Active
Available in Hardcover - Cloth: Price $29.95 | Buy Now
Established in 1999 as a partnership between the University of Tennessee and Battelle Memorial Institute, UT-Battelle, LLC, has been responsible for delivering the Department of Energy's research mission during a period of historic change at Oak Ridge National Laboratory. Shaped by the unique cultures of both the University and Battelle, the changes have literally transformed the face of the Laboratory from an outdated institution characterized by shabby facilities and giant parking lots into one of the world's most modern and successful research campuses.
The story of UT-Battelle is how an unprecedented partnership between the Department of Energy and the state of Tennessee produced benefits for a national laboratory and a land grant university that exceeded all expectations. Told in narrative form, the story begins with the critical decision by the University of Tennessee to seek a management role at the Laboratory, the bold proposal to the Department of Energy, and an inside look into how UT-Battelle sought to expand the Laboratory's research program by "breaking the mold" and bringing about fundamental changes in how the Laboratory is operated. In particular, the book examines the strategy of campus modernization that in less than five years used an innovative partnership with the University and Battelle to transform the face of the Laboratory and play a part in successful competitions for major new research programs.
Using historical images, the book captures many of the people and events that produced a period of truly remarkable progress at Oak Ridge National Laboratory.