Bound to Be a Soldier
The Letters of Private James T. Miller, 111th Pennsylvania Infantry, 1861-1864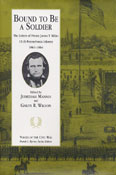 Author(s): Mannis, Jedediah, and Galen R. Wilson, eds.
Series:
Imprint: Univ Tennessee Press
Publication Date: 2001-04-25
Status: Active
Available in Hardcover - Cloth: Price $30.00 | Buy Now
An untutored Pennsylvania farmer, James T. Miller was thirty-one years old when he left his wife and three children to serve in the Union Army at the outbreak of the Civil War. Although his writing was far from polished, he was nevertheless blessed with descriptive and evocative powers that shine through the letters he wrote home.After joining the 111th Pennsylvania Infantry, Miller saw action at Gettysburg, Cedar Mountain, and Chancellorsville. He died in 1864 at the battle of Peachtree Creek, just before the fall of Atlanta.
Drawing us close to Miller's heart and mind, these letters present a powerful sense of an ordinary soldier's experience in its entirety. His descriptions of his fellow soldiers before, during, and after battle are particularly striking.
Equally compelling are his thoughts about home—including his anxiety over his separation from his family as well as his fury at his brothers, who had bought their way out of military service. Bringing that view of the home front full circle, a concluding chapter by editors Jedediah Mannis and Galen Wilson describes the difficulties that Miller's widow, Susan, encountered after the war, especially in her dealings with the Pension Office.
Bound to Be a Soldier presents a common man's critique of military policy and civilian society during wartime in a rough-hewn style that breathes life into historic events.
The Editors: Jedediah Mannis is a Massachusetts attorney who serves as executive director of the Shelter Island Fund, a non-profit environmental organization.
Galen R. Wilson is assistant director of the Great Lakes Region office of the National Archives and Records Administration.