Black Women Abolitionists
Study in Activism, 1828-1860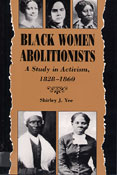 Author(s): Shirley J. Yee
Series:
Imprint: Univ Tennessee Press
Publication Date: 1992-04-10
Status: Active
Available in Paper: Price $24.95 | Buy Now
By virtue of being both black and female in antebellum America, black women abolitionists confronted a particular set of tensions. Whether they supported the movement directly or indirectly, cooperated with whites or primarily with other blacks, worked in groups or independently, were well off financially or struggled to make ends meet, their lives reflected the complex dynamics of race, sex, and class. Against the background of slavery, constructing a life in "freedom" meant adopting many of the values of free white society, symbolized in part by male dominance and female subordination.
In championing both their race and their sex, female black abolitionists found themselves caught between the sexism of the antislavery movement and the racism of the (white) women's movement. Through their writing, speeches, petitions, and participation in antislavery and self-help organizations, these women established a pattern of black female activism—centered on community–building, political organizing, and forging a network of friendships with other activists—that served as a model for later generations of black women.
Drawing on a wide array of previously untapped primary sources, Shirley Yee examines the activism of black women in the Northeast, the Midwest, and, to some extent, California and Canada. The activists' experiences render heartbreakingly clear the pervasiveness of middle-class white values in antebellum America and the contradictions and ironies inherent in prevailing conceptions of "freedom."
The Author: Shirley J. Yee is assistant professor of women's studies at the University of Washington.