Black Music in the Harlem Renaissance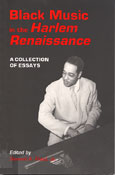 Author(s): Floyd, Samuel A., Jr., ed.
Series:
Imprint: Univ Tennessee Press
Publication Date: 1993-06-15
Status: Active
Available in Paper: Price $29.95 | Buy Now
In the Harlem Renaissance of the 1920s jazz music was performed everywhere, black musicals were presented on Broadway, black composers wrote prize-winning works, and the Harlem Symphony Orchestra played to Harlem concert audiences. Often viewed as a period of literary explosion for African-Americans, the Harlem Renaissance saw the emergence of many musical greats—Dinah Washington, Duke Ellington, Fats Waller, and Louis Armstrong. These essays examine the music of this period, as a central aspect of African American life, and the intellectual scrutiny of one of African American music's most famous forms—jazz.
The book features essays on a variety of subjects regarding the music of African Americans: vocal concert music, musical theater, Duke Ellington, and the relationship of the music to literature and art. An extensive music bibliography lists works composed during the period.
The Editor: Samuel A. Floyd, Jr., is director of the Center for Black Music Research at Columbia College in Chicago. He is the author of Black Music in the United States and Black Music Biography.
"In his illuminating introductory essay, editor Samuel Floyd, . . . argues that, although the Harlem Renaissance may have been literary in origin, music became the most decisive vehicle for achieving its aims. . . . The articles that follow are of equally high quality."—W. K. Kearns, Choice
"The Negro Renaissance is a critically important period/movement that revealed recognition of inventive musical heritage and innovation. All music collections will benefit from this comprehensive discussion of Black-American musical traditions."—Come-All-Ye