Backcountry Makers
An Artisan History of Southwest Virginia and Northeast Tennessee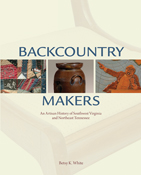 This new book brings to life the material-culture heritage of southwest Virginia and northeast Tennessee. In Backcountry Makers, Betsy K. White expands on her previous study of the region's rich decorative arts legacy, Great Road Style, to offer a closer look at the individual artisans responsible for the diverse works that constitute that legacy.
Beautifully illustrated with some 230 photographs, most of them in color, this volume includes biographical sketches of seventy-five makers—potters, weavers, spinners, quilters, embroiderers, cabinetmakers, metalsmiths, clocksmiths, gunsmiths, and artists—who worked in the region from the earliest eighteenth-century settlement days to the late twentieth century. The entry for each artisan is accompanied by one or more images of a signed or marked work, or, in a number of instances, an unmarked work with certain provenance.
These vignettes offer a fascinating glimpse of the people behind the various pieces, describing their background, family life, and where they learned their trade. Using census records and other documentary evidence, White has traced the earliest of these artisans from their origins in such places as Europe and Philadelphia down through the Great Valley of Virginia to their ultimate destinations in southwest Virginia and northeast Tennessee. Along with the photos displaying the products of their craftsmanship, the book also includes a number of evocative images of the artists and their homes and towns, thus giving the reader a fuller sense of the region where these gifted people lived and worked.
One of the few studies to addresses handmade objects in this locale—and one of the even fewer works to focus on the artisans themselves— Backcountry Makers  will be of great value not only to scholars of material culture and the arts in Appalachia but also to those who collect regional antiques and crafts and want to know more about the individuals who made them.