Autumn Spring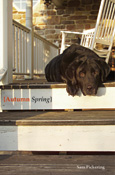 Author(s): Pickering, Sam
Series:
Imprint: Univ Tennessee Press
Publication Date: 2007-08-30
Status: Active
Available in Paper: Price $19.95 | Buy Now
"No one creates so many memorable, saucy aphorisms-piquant, bitter-sweet, arousing." -Pat C. Hoy II, New York University
Sam Pickering's essays are funny and wise-and always intoxicating, eggnog to warm glazed winter nights and juleps to cool sweltering summer days.  He wanders Connecticut, Canada, and the South, seeding his old farm in Nova Scotia with words and scattering paragraphs in and about classrooms at the University of Connecticut.  He describes the great flowerings of summers and falls.  He mulls over vanishing friendships, then hunts for buried treasure in a library.  He endures a massage, ponders the genteel, and explores shadowy alcoves and books.  For him home is where heart and heartache thrive together.  Students make him laugh and weep, and in part his book is a teaching manual crammed with anecdotal good sense.
He buries his old dog George and picks up Bert, a rescue dachshund addicted to unmentionable munchies and cloddish doggy behavior, an animal who obstinately refuses to cross the Rainbow Bridge.  Pickering runs road races, although he says anyone in a motorized walker could leave him far behind.  In "Premortem" he anatomizes his vanishing muscles and then decides to have a knee operation in hopes of shuffling fast enough to keep a heeltap ahead of the pale rider on the white horse.
This is a book about love and happiness-a restorative collection that shows readers how to enjoy life's small glories even among its indignities.  When the going gets sour, Pickering tells a joke and transforms the sour into sweet delight.
Sam Pickering teaches English at the University of Connecticut.  The inspiration for the teacher in the movie Dead Poets Society, Pickering is a member of the Fellowship of Southern Writers and a master of the essay form.  Among his dozen collections of essays are A Little Fling and The Last Book, both published by the University of Tennessee Press.