Appalachians All
East Tennesseans and the Elusive History of an American Region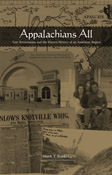 "A singular achievement. Mark Banker reveals an almost paradoxical Appalachia that trumps all the stereotypes. Interweaving his family history with the region's latest scholarship, Banker uncovers deep psychological and economic interconnections between East Tennessee's 'three Appalachias'—its tourist-laden Smokies, its urbanized Valley, and its strip-mined Plateau."—Paul Salstrom, author of Appalachia's Path to Dependency
"Banker weaves a story of Appalachia that is at once a national and regional history, a family saga, and a personal odyssey.  This book reads like a conversation with a good friend who is well-read and well-informed, thoughtful, wise, and passionate about his subject.  He brings new insights to those who know the region well, but, more importantly, he will introduce the region's complexities to a wider audience."—Jean Haskell, coeditor, Encyclopedia of Appalachia
Appalachians All intertwines the histories of three communities—Knoxville with its urban life; Cades Cove with its farming, logging, and tourism legacies; and the Clearfork Valley with its coal production—to tell a larger story of East Tennessee and its inhabitants. Combining a perceptive account of how industrialization shaped developments in these communities since the Civil War with a heartfelt reflection on Appalachian identity, Mark Banker provides a significant new regional history with implications that extend well beyond East Tennessee's boundaries.
Writing with the keen eye of a native son who left the area only to return years later, Banker uses elements of his own autobiography to underscore the ways in which East Tennesseans, particularly "successful" urban dwellers, often distance themselves from an Appalachian identity. This understandable albeit regrettable response, Banker suggests, diminishes and demeans both the individual and region, making stereotypically "Appalachian" conditions self-perpetuating. Whether exploring grassroots activism in the Clearfork Valley, the agrarian traditions and subsequent displacement of Cades Cove residents, or Knoxvillians' efforts to promote trade, tourism, and industry, Banker's detailed historical excursions reveal not only a profound richness and complexity in the East Tennessee experience but also a profound interconnectedness.
Synthesizing the extensive research and revisionist interpretations of Appalachia that have emerged over the last thirty years, Banker offers a new lens for constructively viewing East Tennessee and its past. He challenges readers to reconsider ideas that have long diminished the region and to re-imagine Appalachia. And ultimately, while Appalachians All speaks most directly to East Tennesseans and other Appalachian residents, it also carries important lessons for any reader seeking to understand the crucial connections between history, self, and place.
Mark T. Banker, a history teacher at Webb School of Knoxville, resides on the farm where he was raised in nearby Roane County. He earned his PhD at the University of New Mexico and is the author of Presbyterian Missions and Cultural Interaction in the Far Southwest, 1850–1950. His articles have appeared in the Journal of Presbyterian History, Journal of the West, OAH Magazine of History, and Appalachian Journal.