Andrew Johnson's Civil War and Reconstruction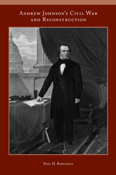 Few figures in American political history are as reviled as Andrew Johnson, the seventeenth president of the United States. Taking office after the assassination of Abraham Lincoln, he clashed constantly with Congress during the tumultuous early years of Reconstruction. He opposed federally-mandated black suffrage and the Fourteenth Amendment and vetoed the Freedmen's Bureau and Civil Rights bills.
In this new book, Paul H. Bergeron, a respected Johnson scholar, brings a new perspective on this often vilified figure. Previous books have judged Johnson out of the context of his times or through a partisan lens. But this volume—based on Bergeron's work as the editor of The Papers of Andrew Johnson—takes a more balanced approach to Johnson and his career.
Admiring Johnson's unswerving devotion to the Union, Lincoln appointed him as military governor of Tennessee, a post, Bergeron argues, that enhanced Johnson's executive experience and his national stature. While governor, Johnson implemented the emancipation of slaves in the state and laid the foundation for a new civilian government. Bergeron also notes that Johnson developed a close connection with the president which eventually resulted in his vice-presidential candidacy. In many respects, therefore, Johnson's Civil War years served as preparation for his presidency. Bergeron moves beyond simplistic arguments based on Johnson's racism to place his presidency within the politics of the day. Putting aside earlier analyses of the conflict between Johnson and the Republican Radicals as ideological disputes, Bergeron discusses these battles as a political power struggle. In doing so, he does not deny Johnson's racism but provides a more nuanced and effective perspective on the issues as Johnson tried to pursue the "politics of the possible."
Bergeron interprets Johnson as a strong-willed, decisive, fearless, authoritarian leader in the tradition of Andrew Jackson. While never excusing Johnson's inflexibility and extreme racism, Bergeron makes the case that, in proper context, Johnson can be seen at times as a surprisingly effective commander-in-chief—one whose approach to the problems of reestablishing the Union was defensible and consistent.
With its fresh insight on the man and his times, Andrew Johnson's Civil War and Reconstruction is indispensable reading for students and scholars of the U.S. presidency and the Civil War and Reconstruction periods.