Andrew Johnson and the Negro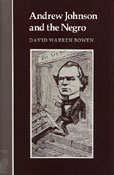 Author(s): Bowen, David Warren
Series:
Imprint: Univ Tennessee Press
Publication Date: 1989-05-25
Status: Active
Available in Paper: Price $29.95 | Buy Now
"Bowen has probed the working of Andrew Johnson's mind. His analysis illuminates the character of East Tennessee's tailor president and the contradictions—as well as the consistency—of his policies toward slavery and toward blacks."— LaWanda Cox, author of Lincoln and Black Freedom: A Study in Presidential Leadership
Andrew Johnson, who was thrust into the office of presidency by Lincoln's assassination, described himself as a "friend of the colored man." Twentieth century historians have assessed Johnson's racial attitudes differently.
In his revisionist study, David Bowen explores Johnson's racist bias more deeply than other historians to date, and maintains that racism was, in fact, a prime motivator of his policies as a public official. A slave owner who defended the institution until the Civil War, Jonson accepted emancipation. Once Johnson became president, however, his racial prejudice reasserted itself as a significant influence on his Reconstruction policies.
Bowen's study deftly analyzes the difficult personality of the seventeenth president and the political influences that molded him. This portrait of a man who, despite his many egalitarian notions, practiced racism, will intrigue historians and readers interested in Civil War and Reconstruction history alike.
The Author: David Warren Bowen, formerly on the staff of The Papers of Andrew Johnson, teaches history at Livingston University.