Anatomy of a Schism
How Clergywomen's Narratives Reinterpret the Fracturing of the Southern Baptist Convention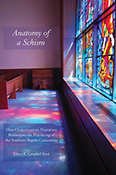 Author(s): Campbell-Reed, Eileen
Series:
Imprint: University of Tennessee Press
Publication Date: 2016-04-13
Status: Active
Available in Paper: Price $34.95 | Buy Now
From 1979 to 2000, the Southern Baptist Convention (SBC) was mired in conflict, with the biblicist and autonomist parties fighting openly for control. This highly polarizing struggle ended in a schism that created major changes within the SBC and also resulted in the formation of several new Baptist groups. Discussions of the schism, academic and otherwise, generally ignore the church's clergywomen for the roles they played and the contributions they made to the fracturing of the largest Protestant group in the United States. Ordained women are typically treated as a contentious issue between the parties. Only recently are scholars beginning to take seriously these women's contributions and interpretations as active participants in the struggle.
Anatomy of a Schism is the first book on the Southern Baptist split to place ordained women's narratives at the center of interpretation. Author Eileen Campbell-Reed brings her unique perspective as a pastoral theologian in conducting qualitative interviews with five Baptist clergywomen and allowing their narratives to focus attention on both psychological and theological issues of the split. The stories she uncovers offer a compelling new structure for understanding the path of Southern Baptists at the close of the twentieth century. The narratives of Anna, Martha, Joanna, Rebecca, and Chloe reframe the story of Southern Baptists and reinterpret the rupture and realignment in broad and significant ways. Together they offer an understanding of the schism from three interdisciplinary perspectives—gendered, psychological, and theological—not previously available together. In conversation with other historical events and documents, the women's narratives collaborate to provide specific perspectives with universal implications for understanding changes in Baptist life over the last four decades.
The schism's outcomes held profound consequences for Baptist individuals and communities. Anatomy of Schism is an illuminating ethnographic and qualitative study sure to be indispensable to scholars of theology, history, and women's studies alike.
EILEEN R. CAMPBELL-REED is associate professor of practical theology at Central Baptist Theological Seminary in Nashville, Tennessee, and codirector of the Learning Pastoral Imagination Project, a longitudinal study of ministry. She is the author of Being Baptist: A Resource for Individual and Group Study and numerous articles about women in ministry.