Amazing Baseball Heroes
Inspirational Negro League Stories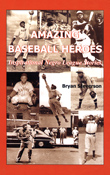 Author(s): Steverson, Bryan
Series:
Imprint: Tennessee Valley Publishing
Publication Date: 2011-05-30
Status: Active
Available in Hardcover - Cloth: Price $29.95 | Buy Now
The legendary Jackie Robinson broke major league baseball's color barrier in 1947 when he debuted with the Brooklyn Dodgers. That same year he was chosen MLB's Rookie of the Year. The first African American to play in the major league since the late 19th century, Robinson lead a distinguished career on the diamond, ultimately being inducted into the National Baseball Hall of Fame.
Amazing Baseball Heroes profiles twenty American baseball legends—including Jackie Robinson—complete with statistics and facts that show their athletic skills and determination were second to none. They overcame the lack of educational opportunities, poverty, and racial discrimination, yet they refused to give in and were not outplayed.
These men's stories travel beyond baseball and race, to a place where faith, courage, and character triumph.
Bryan Steverson is a retired chief metallurgist with a Fortune 500 Company. He is a baseball historian, writer, and speaker, and lives in Maryville, Tennessee with his wife Barbara.