Agee Agonistes
Essays on the Life, Legend, and Works of James Agee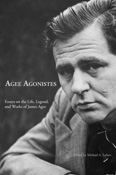 Author(s): Lofaro, Michael A.
Series:
Imprint: Univ Tennessee Press
Publication Date: 2007-05-30
Status: Active
Available in Hardcover - Cloth: Price $48.00 | Buy Now
Most widely noted for his acclaimed Let Us Now Praise Famous Men and his Pulitzer Prize-winning novel, A Death in the Family, Tennessee native James Agee was also a journalist, film critic, poet, and screenwriter.  More than fifty years after Agee's untimely death, his canon of work continues to grow in popularity, and his ability to capture the human condition in all its forms remains unparalleled.
Agee Agonistes is a compilation of seventeen essays from the James Agee Celebration hosted by the University of Tennessee in April 2005.  The collection includes some of the best interpretations of Agee's work and explores the influences on his art, delineates the connections and syntheses he makes within his texts, and examines his involvement in music, ethics, surrealism, local and national history, cinema, television, poetry, literature, sociology, and journalism. The volume features never-before-seen pictures of Agee, previously unknown correspondence, and a remembrance by his oldest daughter, Deedee. The volume also includes the most extensive bibliography of secondary sources on Agee assembled to date.
The essays are divided into four parts:
Agee's Influences and Syntheses-Contributors: Paul Sprecher, William Bruce Wheeler, Jack Neely, Jeffrey J. Folks, Hugh Davis, Paul Ashdown
Agee's Films-Contributors: Daniel Feller, Jeffrey Couchman, Mary E. Papke, John Wranovics
Agee's Literature-Contributors:  Fred Chappell, Angie Maxwell, John H. Summers, James A. Crank, Michael A. Lofaro
Agee's Correspondence-Contributor: Brian Gempp.
In addition, the volume includes an introductory essay entitled "Mapping Agee's Myriad Mind" by noted author David Madden.
Agee Agonistes will be of interest to all those who study twentieth-century America and will introduce a new generation of readers to James Agee.
Michael Lofaro is professor of American literature and American and Cultural Studies at the University of Tennessee, Knoxville. He has authored and edited numerous volumes and is coeditor, with Hugh Davis, of James Agee Rediscovered: The Journals of Let Us Now Praise Famous Men and Other New Manuscripts. He is also the general editor for the ten-volume series, The Works of James Agee, and the editor of its forthcoming first volume, A Death in the Family:  A Restoration of the Author's Text.