A Separate Circle
Jewish Life in Knoxville, Tennessee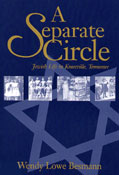 Author(s): Besmann, Wendy Lowe
Series:
Imprint: Univ Tennessee Press
Publication Date: 2001-06-08
Status: Active
"An insightful and well-written book. One of the best studies of local Jewish history extant."—Leonard Dinnerstein, University of Arizona
For more than a century and a half, the Jewish citizens of the area in and around Knoxville, Tennessee, have maintained the rituals and traditions that define them as a separate people, even as they have blended quietly with their non-Jewish neighbors.
Wendy Lowe Besmann paints a vivid picture of this community, bringing alive the stories of merchants, grocers, immigrants from Eastern Europe, and scientists and university professionals who have come to call the area home. Drawing on interviews and other sources, she traces the growth of local synagogues, explores the role of Jewish community centers, looks at how children were shaped by school and Temple life, and even recalls the community's summer vacations at nearby Neubert Springs.
With broad historical sweep, Besmann examines what life was like for Knoxville's early Jewish community and how the events of their lives were affected by American expansion and depression, by social upheaval and urban migration. Successive waves of immigrants, from the traveling peddlers of the late nineteenth century to the doctors, lawyers, and engineers of the late twentieth, have both adapted to the culture of East Tennessee and shaped it in subtle ways. As they did in cities all over the South, Knoxville's Jewish population followed jobs, meaning that most of them did not grow up in the region.
Besmann looks at topics as diverse as patterns of chain migration, the role of Jewish merchants in the Civil War, and the contributions of a Jewish-owned music store to the career of Elvis Presley. She describes the vital role of ritual and celebration in the community, from the importance placed on religious education to the songs played at bar mitzvahs. A Separate Circle chronicles a wealth of memories, struggles, and achievements. The stories Besmann and her subjects tell reflect the complex bonds of kinship, ethics, and culture that have forged a unique way of life in a small southern, Jewish community.
The Author: Wendy Lowe Besmann is a freelance writer whose work has been published in The New York Times, USA Today, The Atlantic, Self, and Better Homes & Gardens. She lives in Oak Ridge, Tennessee.