A Natural History Mount Le Conte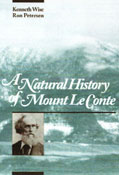 Author(s): Wise, Kenneth, and Ron Petersen
Series:
Imprint: Univ Tennessee Press
Publication Date: 1998-10-14
Status: Active
Available in Paper: Price $24.95 | Buy Now
Widely regarded as the crown jewel of the Great Smoky Mountains, Mount Le Conte harbors the greatest concentration of notable geological features in all of the Smokies. This unique book tells the history of the mountain, offering visitors a greater appreciation of its scenic splendor. 
Kenneth Wise and Ron Petersen combine their intimate knowledge of Le Conte with a wealth of scientific and historical information. Following introductory coverage of the mountain's geologic history and human exploration, they follow the six main trails up the mountain—Alum Cave, Bullhead, Rainbow Falls, Trillium Gap, Brushy Mountain, and the Boulevard—and reveal each one to be not merely a path but also a rich source of historical and personal testimony. A final chapter covers the distinguishing features of the summit itself.
Along each route, the authors explain how the trail was developed and provide background for well-known landmarks, from Inspiration Point to Huggins Hell. They offer informative descriptions of the plants and wildlife indigenous to Mount Le Conte as well as observations on the effects of environmental changes on the landscape.
The book is illustrated with dozens of photographs, many of historic interest.
Kenneth Wise is an associate professor at the John C. Hodges Library and the author of Hiking Trails of the Great Smoky Mountains. Ron Petersen is a distinguished professor in the Department of Botany at the University of Tennessee in Knoxville.