A Memoir of the New Left
The Political Autobiography of Charles A. Haynie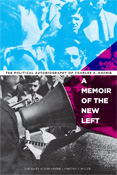 Author(s): Haynie, Aeron, and Timothy S. Miller, eds.
Series:
Imprint: Univ Tennessee Press
Publication Date: 2009-09-10
Status: Active
Available in Hardcover - Cloth: Price $34.95 | Buy Now
"In Charles Haynie's autobiography we get a rare look into the development of a great social movement through the quietly dramatic experiences of a rank-and-file member of that movement. This is valuable social history, but more important, Charles Haynie's life is an inspiration for a new generation." —Howard Zinn
Charles Haynie's life as an activist and organizer began while he was a graduate student at Cornell University. Young, fiercely intelligent, and spirited, Haynie had a political awakening during the early antinuclear movement in the late 1950s. It was the beginning of a long career of tireless fighting for social justice—a career that Haynie himself compellingly describes in A Memoir of the New Left.
From 1963 to 1965, Haynie was field director for a voter registration project in Tennessee. In 1967 he worked with Massachusetts Political Action for Peace as an organizer of antiwar delegations in all twelve congressional districts of the state. Haynie also ran for a Buffalo Common Council seat in 1979 and helped organize the Buffalo Unity Day rally to ease racial tensions.
During his most intense period of political activism, Haynie helped organize, participated in, and was arrested during the Freedom Rides in which scores of civil rights protesters rode buses throughout the segregated South. Later, he participated in a variety of intentional communities designed to educate and support oppressed minorities in rural and urban areas. He died in 2001.
Unlike other histories of the American left, which tend to celebrate famous personalities, Haynie's memoir focuses on how ordinary citizens become politicized. In the process, this account raises questions about the nature of democracy and how political change occurs. Written in an engaging, reflective, often humorous style, Haynie examines how his political awakening both disrupted and enriched his personal life.
Aeron Haynie, the daughter of Charles Haynie, is associate professor of English at the University of Wisconsin–Green Bay. She is the coeditor, with Pamela Gilbert and Marlene Tromp, of Mary Elizabeth Braddon in Context and the coeditor, with Regan Gurung and Nancy Chick, of Exploring Signature Pedagogies.
Timothy S. Miller lives in Dallas, Texas with his wife and daughter. He's been a ranch-hand, waiter, contract driver, professional clown and spent ten years in global wealth management.
Douglas Dowd was a longtime professor at Cornell University before his retirement. An economic historian and political activist, his most recent books include Capitalism and Its Economics: A Critical History and Understanding Capitalism: Critical Analysis from Karl Marx to Amatya Sen.