A Legacy of Valor
The Memoirs and Letters of Captain Henry Newton Comey, 2nd Massachusetts Infantry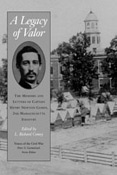 Author(s): Comey, Lyman Richard
Series: Voices of the Civil War
Imprint: Univ Tennessee Press
Publication Date: 2004-05-01
Status: Active
Available in Hardcover - Cloth: Price $38.00 | Buy Now
"The letters, memoir, and diary of Henry N. Comey are well written and of considerable historical value. As the writer was both an enlisted man and an officer in the 2nd Massachusetts Infantry, he supplies several perspectives on life in camp and battle in one of the Union army's 'fighting' regiments. There are excellent descriptions of parts of the battles of Cedar Mountain, Chancellorsville, Brandy Station and Gettysburg." —Frank L. Byrne, late of Kent State University
In May 1861, following the attack on Fort Sumter, President Lincoln issued a call for seventy-five thousand volunteers. Following his graduation from Phillips Exeter, Henry Newton Comey enlisted in the 2nd Massachusetts Infantry, one of these volunteer regiments. He served through the entire Civil War, entering as a private and rising rapidly through the ranks, becoming a captain in 1864. Comey's writing provides a unique portrait of the soldier's life; rarely does one find primary source material covering the same period from the same individual in different genres. But Comey wrote his family often during the war, kept a journal for most of 1863, and, shortly after Appomattox, composed a memoir of his military experiences.
A Legacy of Valor intersperses Comey's letters and diary entries with his memoir to provide a fascinating account of a Union soldier's life. Comey saw some of the war's most pivotal battles, including Antietam, Chancellorsville, and Gettysburg, as well as witnessing Sherman's March to the Sea. This descendant of Scottish and Revolutionary American patriots wrote with honesty and increasing graphic detail as the war progressed, from a stirring account of patriot games to a disgusted recollection of being "beaten by an army of half our number." Comey revealed his commitment to the Union cause by reenlisting when his term was up. An educated young man, his observations and political commentary reflect his evolution from eager young private to hardened veteran.
Lyman Richard Comey is a retired secondary school principal who lives in Charlottesville, Virginia. Henry Newton Comey was his great-grandfather's cousin. Like his ancestor, he served as a Captain of Infantry, in the U.S. Army Reserve.