A History of the Tennessee Supreme Court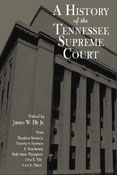 Author(s): Ely, Jr., James W.
Series:
Imprint: Univ Tennessee Press
Publication Date: 2004-04-15
Status: Active
Available in Paper: Price $26.95 | Buy Now
In this first comprehensive history of the Tennessee Supreme Court, seven leading scholars explore the role played by the Court in the social, economic, and political life of the state. Charting the evolution and organization of the Court (and its predecessor, the Superior Court of Law and Equity), the authors also assess the work of the Court within the larger context of the legal history of the South.
Arranged chronologically, this volume covers the period from statehood in 1796 through the judicial election of 1998 and traces the range of contentious issues the Court has faced, including slavery, Reconstruction, economic rights, the regulation of business, and race and gender relations. The authors also outline the Court's relationship with the Supreme Court of the United States and chronicle the achievements of the Court in public and private law, state constitutional law, property law, criminal justice, and family law. The central themes that emerge include the nature of federalism, the search for judicial independence, and the practice of judicial review.
As the authors demonstrate, the work of the Tennessee Supreme Court highlights the importance of state courts to the federal system and illuminates the interplay between regionalism and national norms in shaping a state's legal culture. Indeed, as mediator of conflicts between traditional southern values and national economic and social trends, the Court has generally, if sometimes belatedly, adopted national legal standards. Further, while the Court has tended to defer to the state's legislative decision-making process, it has on occasion assumed a more activist role in order to assert individual rights for Tennessee's citizens.
Sponsored by the Tennessee Supreme Court Historical Society, this book is written for anyone interested in Tennessee history in general or legal history in particular. Appendixes include a comprehensive table of cases and biographical information about all the Court's judges.
The Editor: James W. Ely Jr. is Milton R. Underwood Professor of Law and professor of history at Vanderbilt University. His books include The Chief Justiceship of Melville W. Fuller, 1888–1910 and The Guardian of Every Other Right: A Constitutional History of Property Rights. He is also the series editor of the six-volume Property Rights in American History.