A Guide to Endangered and Threatened Species in Virginia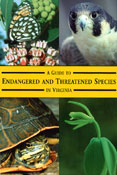 Author(s): Terwilliger, Karen and John R. Tate, coordinators and Susan L. Woodward, ed.
Series:
Imprint: Univ Tennessee Press
Publication Date: 2001-01-02
Status: Active
Available in Paper: Price $14.95 | Buy Now
Condensed from Virginia's Endangered Species, this concise guide identifies the most vulnerable plants and animals found in the Commonwealth. It contains one-page summaries of the biology and ecology of the endangered and threatened species, including physical descriptions and reviews of each species' distribution, habitat, life history, and vulnerability. A color photograph is provided for almost every species. An introduction summarizes Virginia's natural habitats, conservation laws, and the responsibilities of the various state agencies involved in the conservation of biotic diversity. Several appendixes are also included, providing quick reference to definitions of legal status and the status of each listed species.
This book will prove useful both as a reference work and a field tool for professional biologists and ecologists, as well as land managers, planners, developers, teachers, students, and all others seeking information about conserving and wisely managing Virginia's biological heritage.
The Coordinators: Karen Terwilliger is associated with the Nongame and Endangered Wildlife Program of the Virginia Department of Game and Inland Fisheries.
John R. Tate works for the Office of Plant and Pest Services of the Virginia Department of Agriculture and Consumer Sciences.